Today, let's learn some encyclopedia about plush toys.
The plush toy is a doll, which is a textile sewn from the outer fabric and stuffed with flexible materials. Plush toys originated from the German Steiff company at the end of the 19th century, and became popular with the creation of the teddy bear in the United States in 1903. Meanwhile, the German toy inventor Richard Steiff designed a similar bear. In the 1990s, ty Warner created Beanie Babies, a series of animals stuffed with plastic particles, which are widely used as collectibles.
Stuffed toys are made in various forms, but most of them are similar to real animals (sometimes with exaggerated proportions or characteristics), legendary creatures, cartoon characters or inanimate objects. They can be produced commercially or domestically through a variety of materials, the most common being pile textiles, for example, the outer layer material is plush and the filling material is synthetic fiber. These toys are usually designed for children, but plush toys are popular in all ages and uses, and are characterized by the popular trend in popular culture, which sometimes affects the value of collectors and toys.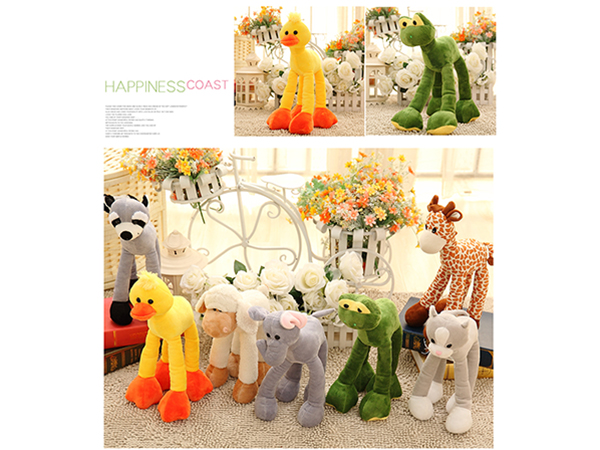 Stuffed toys are made of a variety of materials. The earliest were made of felt, velvet or mohair, and stuffed with straw, horsehair or sawdust. After the Second World War, manufacturers began to put more synthetic materials into production, and in 1954 produced XXX teddy bears made of easy to clean materials. Modern plush toys are usually made of outer fabric (such as plain cloth), pile fabric (such as plush or terry cloth) or sometimes socks. Common filling materials include synthetic fiber, cotton batt, cotton, straw, wood fiber, plastic particles and beans. Some modern toys use the technology of moving and interacting with users.
Stuffed toys can also be made of various types of fabrics or yarns. For example, hand-made dolls are Japanese type knitted or crocheted plush toys, usually made with a large head and small limbs to look Kawaii ("cute").
Plush toys are one of the most popular toys, especially for children. Their uses include imaginative games, comfortable objects, displays or collections, and gifts for children and adults, such as graduation, illness, consolation, Valentine's day, Christmas or birthday. In 2018, the global market of plush toys is estimated to be US $7.98 billion, and the growth of target consumers is expected to drive sales growth.
---
Post time: Sep-01-2022