When the last batch of mascot plush toys were sent to Qatar, Chen Lei just breathed a sigh of relief. Since he contacted the Qatar World Cup Organizing Committee in 2015, the seven year long "long run" has finally ended.
After eight versions of process improvement, thanks to the full cooperation of the local industrial chain in Dongguan, China, from design, 3D modeling, proofing to production, La'eeb plush toys, the mascot of the World Cup, stood out among more than 30 enterprises around the world and appeared in Qatar.
The Qatar World Cup will open on November 20, Beijing time. Today, we will take you to know the story behind the mascot of the World Cup.
Add "nose" to the mascot of the World Cup.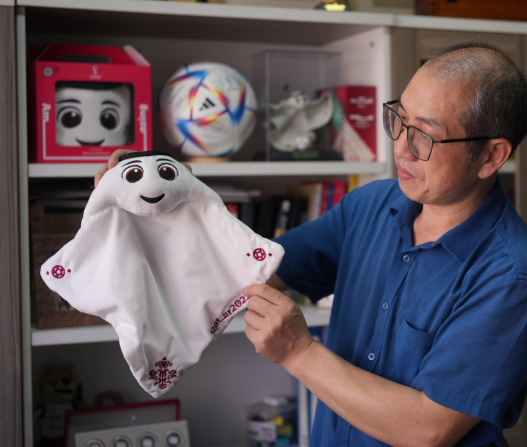 Laib, the mascot of the 2022 Qatar World Cup, is the prototype of Qatar's traditional clothing. The graphic design is simple in lines, with a snow-white body, elegant traditional headwear, and red print patterns. It looks like a "dumpling skin" when chasing football with open wings
From the flat "dumpling skin" to the cute toy in the hands of fans, two core problems should be solved: first, let the hands and feet free Raeb "stand up"; The second is to reflect its flying dynamics in the plush technology. Through process improvement and packaging design, these two problems were solved, but Raeb really stood out because of its "bridge of the nose". The facial stereoscopy is the design problem that led many manufacturers to withdraw from the competition.
The Qatar World Cup Organizing Committee has strict requirements on the facial expression and posture details of mascots. After in-depth research, the team in Dongguan added small cloth bags inside the toys, filled them with cotton and tightened them, so that Laibu had a nose. The first version of the sample was made in 2020, and the car culture was constantly improved. After eight versions of changes, it was recognized by the organizing committee and FIFA.
It is reported that the mascot plush toy, which represents the image of Qatar, was finally accepted and approved by the Emir of Qatar (Head of State) Tamim himself.
---
Post time: Nov-21-2022